My Work Practice :: Making Rakusu Rings
My life and this practice are but gifts from the universe. My practice includes Zen and this service project.
I live outside of Moscow Idaho. I'm a woodworker and a Zen practitioner. I make wooden rakusu rings as a service project and as my part of my work practice. It is not my way to have rakusu rings already made but to make rakusu rings with the particular jukai aspirant in mind.
I ship internationally. I work primarily in domestic woods, mostly sustainably harvested and sometimes wood supplied by jukai aspirant and I've been collecting wood species for many years, some with no commercial value but are beautiful nonetheless. I can get and work about any legally available wood in the world. Please contact me at will@kestrelcreek.com to question availability of your desired wood species if you have special needs. It is important that we connect, with a long enough timeline, (usually a couple of weeks) and to talk about the wood species available and what is desired. I will work with you to get the right rakusu ring that speaks to you. I don't usually have rakusu rings pre made, instead prefer to make then by request.
I have been formally practicing with the Palouse Zen Community for about 12 years. I am a student of one of Robert Aitken's students, Jack Duffy. His home and retreat center is outside of Bellingham Washington. For me it is a rich and rewarding experience to participate with you in your jukai in such a small way. If you accept a ring from me, I'd really like to receive a photo of you with your completed rakusu (possibly taken at your jukai). Tell me a little about your practice and when you might be taking jukai and where to send the completed rakusu ring?
Below is a list of woods I've worked with in the past and images of rings I've made. These are already in service around the world. I think it is important you get a rakusu ring that speaks to you. Sometimes I may have the perfect ring already made, though, if I produce a ring for you, that process takes about a week or two. I sometimes have wood species that are not represented here. This is just a sampling, the one I would make for you is different because wood color and grain pattern, even in the same species of wood, the same tree are varied. If you see any here you like, or have questions email at will@kestrelcreek.com. Please enclose details about your practice, the group and linage you practice in, when and with whom you will be taking jukai. Anything you'd be willing to share. Please let me know if your practice community has a specific size requirement for a rakusu ring. If you do not specify I'll provide a Rakusu Ring of approximately 2 5/8" (66 mm) outside diameter 1 3/8" (35 mm) inside diameter 1/4" (6 mm) thick. This is the traditional size typical in Soto Zen. These are made one at a time and their precise dimensions vary a little. Select this link to see pictures of the process, warning "sausage being made".
When doing small bulk orders I need more lead time and I collect the names, email addresses and home towns of the final recipients of the rakusu rings. This is for my database of the homes of the rakusu rings I make. I really like to know where each rakusu ring ends up, where it sleeps at night. I sometimes provide rakusu rings to Roshis, sanghas or jukai classes, but I'd prefer to work with each aspirant directly. I do not make rakusu rings for resale. If you are interested in a few rakusu rings for a group, contact me at will@kestrelcreek.com and we'll talk.
Please specify if you want a Rakusu ring in either the traditional Soto or Rinzai Schools.
If you do not specify I'll provide a Rakusu Ring of 2 5/8" (66 mm)
Soto tradition - 2 5/8" (66 mm) outside diameter 1 3/8" (35 mm) inside diameter 1/4" (6 mm) thick
Rinzai tradition - 2 7/8" (73 mm) outside diameter 1 3/8" (35 mm) inside diameter 1/4" (6 mm) thick
I also make custom sized rings.
References
Link to information on sewing the Rakusu.
Helpful sewing tips and a precept guide, rakusu pattern and photos of a completed rakusu are available at http://palousezen.org/jukai.html.
Another rakusu ring maker is Zen Buddhist monk Oshin Jennings and they are available at No Barriers Zen Temple.
Rakusu and other zen garments - professional tailor and Zen priest Shuji Valdene Mintzmyer available at http://zenmonkwear.com/
A place to get a pre-made rakusu or rakusu ring at Sitting Still.
Zabu zabu, a source for custom made zen meditation clothing and supplies, including rakusus at http://www.zabuzabu.net/.
Jikan Lucy Brusini propriater at Iki;8 makes custom clothing and rakusus for the lay and ordained Rinzai Zen community http://iki-8.com/

Woods I've used in the past.
Birds Eye Maple

Pacific Yew

Sycamore

Redwood Burl

Box Elder Burl

Walnut

Madrone

Lacewood

Bocote

Cherry

Black Locust Burl

Wild Plum

Oregon Myrtle

Spalted Maple

Bug Killed Ponderosa Pine

Black Ash

White Ash

Ambrosia Maple

Olive

Cypress

California Pepper Wood

Red Oak

White Oak
All these actual particular rings are in service. I'd be glad to make you one out of any of these woods. Email me at will@kestrelcreek.com and lets discuss your wood choice and time line.
Hover your pointer over the image
to see THE NAMES OF THE Wood Species.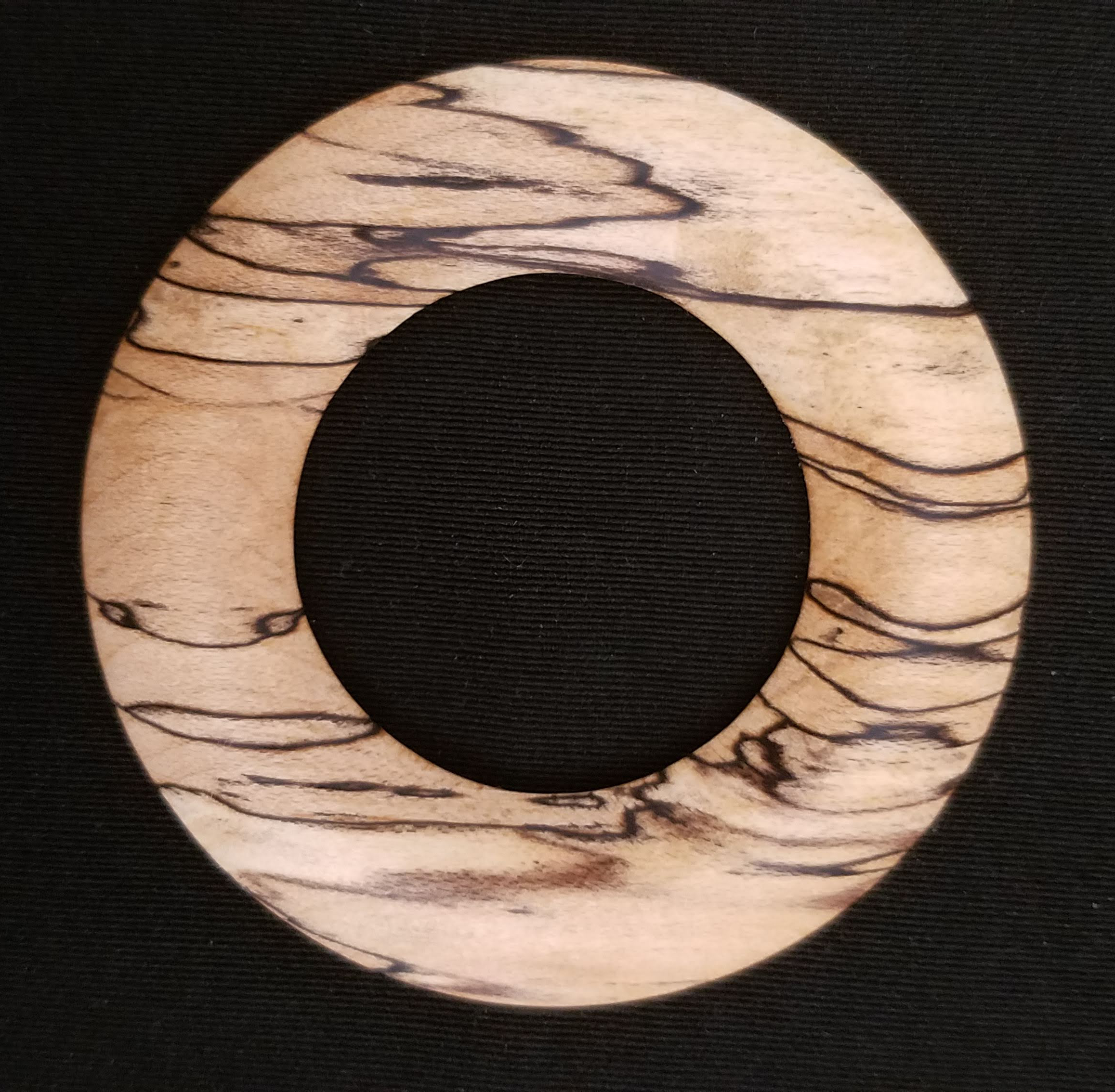 Making and distributing the rings has been a service project for me. Many people have asked what they can send me in return and my stock response has been nothing. And that is fine. Rather you are making your own rakusu or making one for someone else, please don't let cost be a factor. The "suggested dana" is $20.00 each.
Donate with PayPal or via Credit Card.
May the universe tickle you during Zazen!