"It Is to Laugh" number 16 of 200 from Robert Aitken's book
Miniatures of a Zen Master.
This miniature is about laughter. One small quote. "Students who can't laugh can't dream with the sangha."
Zen humor is not an
oxymoron
. Or is it. Aitken Roshi says no. My experience on retreat has not been gut busting at all.
"Zen humor"
only garners a mere 14200 Google hits. (For a sense of scale, Google hits for "Christian humor" = 56700, for "Muslim humor" = 2670 , a whopping 522000 for "Gardening humor".)
The
number 1 link
for "Zen Humor" is not so funny at all. Other than the old drawings of laughing monks, I couldn't muster even a chuckle. Here is one of the drawings.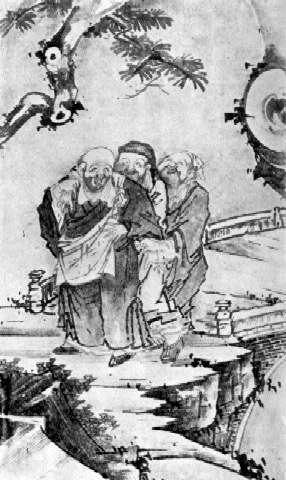 Do you have any Zen humor?


---
I found these audio recording of Thich Nhat Hanh's current retreat. I haven't listened to them all but what I have listened to have been moving but not humorous. These seem to be being posted during the current retreat and more may become available. I've linked here to the current ones as of today that are in English. If you speak French or Vietnamese or can tolerate French to English translation then there are more audio recordings available
here
.
Dharma talks during Mindfulness Days in 2009 by Zen Master Thich Nhat Hanh
(Each of these is about 30mins long and less than 15meg is size.)
Spring 2009 - Thursday, March 12th, 2009
TNH Dharma Talk in English - part 1 of 2
TNH Dharma Talk in English - part 2 of 2
Spring 2009 - Thursday, March 19th, 2009
TNH Dharma Talk in English - part 1 of 2
TNH Dharma Talk in English - part 2 of 2
Spring 2009 - Thursday, March 26th, 2009

TNH Dharma Talk in English - part 1 of 2
TNH Dharma Talk in English - part 2 of 2
Spring 2009 - Thursday, April 2nd, 2009
TNH Dharma Talk in English - part 1 of 2
TNH Dharma Talk in English - part 2 of 2